Hiya'll , I have moved and I'm back again! Have you missed me?:-) And guess what, I have a freebie for you! Yes, again! It's just a little thank you for all your lovely comments! I even got one 'thank you' in Basque! (Tape, your guess is correct, I do know some Basque - ez dago zergaitik:o)) I've noticed a lot of you left a comment at each part of the kit, that's the sweetest thing to do! I really really appreciate it but next time you can leave just one:o))) So thanks a lot, it´s great to know you like it and you have fun with it! A friend of mine sent me this link the day after I put out the memories kit (LO by Jenny79):


Another link I was sent by Fryske who used some elements (thank you and hello to The Netherlands, I love that country, lived there for some time a few years back):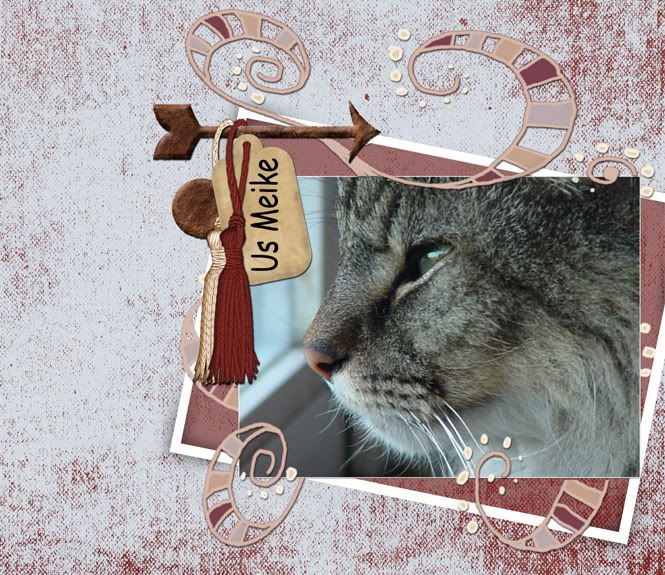 Okay, first things first (God, today it's gonna be a long one!). Once more back to the freebie from last week which was the frame cluster. Thank you all for the feedback and since I've got votes both pro and con one layer, I've decided to make both alternatives next time. And I have a question for you - I've got an email that the file was actually a .psd. I was pretty sure that I saved it as a .png and I went to check the ZIP file and it also says .png. But the lady claims she has a .psd. Isn´t it the weirdest thing, I'm totally confused!? How about you guys, do you have a .psd or a .png???

Now, if you've made it to here, you DO deserve a freebie, LOL! It's a smallie, really, but it can add a nice touch to the LO. I've been working on one of mine and I couldn´t find the right stuff so I just made it! And when I was at it I decided to make a few more and wrap it up for you! So here is the preview:




It´s separate .png and .abr files and you can grab it here. SORRY, THE LINK HAS BEEN DISABLED! I'm sure you'll find a use for it!
Please keep leaving all those fabulous comments!:o)

And this is the LO I used it for:


For credits go here.


Oh, one more thing - I've decided to leave the stuff on the old blog so if you want to snag the older freebies, pls go
there
!
Thanks for visiting and see you soon!