Hi there! Sorry for getting back to you so late today but we've had a really busy day! Haven't stopped all day! Had a doctor check and CTG in the morning and then we went to get presents for the kiddos (the new baby will bring them for them:-)) and we went to choose and get a new coffee machine and also a chest of drawers/changing table. After arriving home I had another pleasant surprise with the arrival of the baby carrier I ordered last weekend. I've already tested it (with a baby-sized doll:-)) and I'm quite happy about it. I mean, nothing beats the sling but it needs some practice to wrap it well...so for short carrying at home and also for my hubby it is quite easier to put on the carrier:-) It's one of those new generation ergonomic carriers (the baby's hip are in the position that is correct for her development) - a German product called Manduca. It looks like this: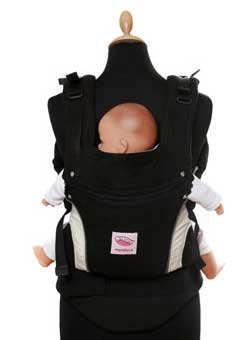 I'm really looking forward to carrying the baby already, Eneko used to love it (until he discovered crawling and then walking:-)) Amaia was lazier and still liked to be carried it sometimes when she was already 2,5 years. The fantastic thing about it is that you have your baby close and your hands are free! And they always calm down and fall asleep there! This is a photo of Eneko when he was about 2 weeks old:



So all in all it has been a very successful day:-) And after posting this I'm heading for bed straight away!

Back to business then...WOW!!! So many great names you suggested!!! I must say it has been VERY hard to choose!!! There were 2 names in the 'final' and I just couldn't decide which one to choose! LOL So I asked DH to help but he liked both as well...in the end I asked a few friends and the winner is ....SUMMER ESCAPADES!!! And the prize goes to Ken&Vicky in Japan! Congratulations, Ken&Vicky!!! One important thing - I'm missing your email address, tried to track you back to your blog but there's no addy either. So Ken&Vicky - please, when you read it, send me an email and I'll send you your prize immediately!!!

And all the rest - thank you SO much for helping me out! I have sent you the link to the flower pack already! Well, to most of you - have the same problem as above with a few other people - so - Jenny, Stacy , Wanda, Julie and one anonymous that suggested ' Seaside Elegance' - please let me know your email address ASAP!!! Thank you!

Now...since you've all been so fantastic, I'd like to offer you another chance to get this kit for free:-) .......You might have noticed that I do NOT have any CT yet. I've been postponing it because I didn't feel it'd work, that I'd find time to communicate properly with my team....And now, especially with the arrival of another baby I don't want to get into a lot of 'work' that I simply wouldn't manage. Wouldn't be too fair...So I thought of sort of a one-time thing, you know - like a CT for one kit! Just to help me to promote it a little. So...if you'd like to work with it please send me an email with a link to your gallery....what I want from you, in exchange for the free kit, is to create a page (yes, only 1 page!:-)) using this kit...well, let's say about 80% of the layout would be from this kit...and post it in 3 galleries. One of them would be DST, another one Scrapartist and third of your choice. Feel like it?:-) Then I'll be looking forward to your emails!:-) The deadline is July6th and I'll let you know by July 8th (I have another doctor check on the 7th:-))

Okay guys, I'm seriously dead today, it's almost 11 pm and I'm going to bed. Good night!